Government of Canada and Government of Ontario Make Infrastructure Investments in Niagara Falls
February 13, 2009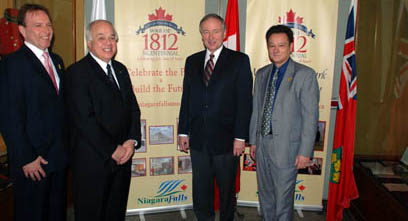 Residents of Niagara Falls will benefit from joint federal, provincial and municipal funding to the Lundy's Lane Battlefield Legacy Project, Lundy's Lane Historical Museum Expansion, announced today by the Honourable Rob Nicholson, P.C., Q.C., Member of Parliament for Niagara Falls, Minister of Justice and Attorney General of Canada, and Kim Craitor, MPP for Niagara Falls. This project is just one example of all levels of government committed to stimulating the Ontario economy by reducing red tape, creating jobs for Ontarians, and getting shovels in the ground sooner.

This project will enhance local tourism and culture and create local jobs, when the need for economic stimulus is greatest.

The governments of Canada and Ontario will each invest up to $3,237,667 in the project. The City of Niagara will contribute the balance of the total eligible project cost of up to $3,237,667.

"The Lundy's Lane Battlefield Legacy Project is a remarkable undertaking to commemorate one of the most important events in Canadian history," said Minister Nicholson. "As residents of Niagara, we will all have the opportunity to revisit and learn about the historic events that took place on our soil. I am proud to announce the federal contribution towards this bi-centennial project."

"Our investment in the Lundy's Lane Historical Museum is an appropriate 1812-1814 Bicentennial Legacy Gift that will make this museum a serious battlefield tourist attraction that will attract history buffs for generations," said Mr. Craitor. "After all it is the site of the most significant battle ever fought to protect Canada from invasion from the United States."

"On behalf of the Members of Council and the members and directors of the Niagara Falls Museum Board I would like to express our appreciation for this commitment from the federal and provincial governments," said Niagara Falls Mayor Ted Salci. "These funds, along with our municipal contribution and those of the private sector, will allow us to realize this legacy project commemorating the bi-centennial of the War of 1812-1814 as well and being a stimulus for the redevelopment of our Historic Drummondville area."

This project is one of 289 across the province that will soon break ground thanks to a federal-provincial-municipal investment of more than $1 Billion.  The governments of Canada and Ontario have taken steps to get shovels in the ground and to flow money faster for targeted infrastructure projects in Ontario Communities for the 2009 and 2010 construction seasons.

Because the federal and provincial governments understand that infrastructure investments will stimulate the economy, nearly 85 per cent of project applications were approved for funding.
LEARN MORE

Get more information about the Communities Component.

Learn how the Government of Canada is investing in Ontario infrastructure.

Learn how the Government of Ontario is helping to build and revitalize infrastructure across the province.